It's fashion week these days, and the arrival of new designers in Celine is causing quite a stir. Of course, Burberry also changed a lot, these changes will directly affect the choice of bags.
So, which bags are most worth buying these days? Today, I will take you to see what the most popular bags have recently!
Celine
One of the biggest stories in the fashion world these days is the designers of Celine. New designer Hedi Slimane's drastic moves to clean up Celine's official Instagram and change its Logo have raised fears that classic bags will never be available again. This has led directly to the Phoebe Philo era Celine bag, which has been on a global run and run out of stock recently.
At Celine stores in Paris and London, the Classic was completely out of stock, and the color of the smiley face bag and the catfish bag were very inadequate.
The following bags are still available in stores or outlets, some from Phoebe's era, and if you're afraid you'll never get them again, you'll want to try your luck at Celine these days!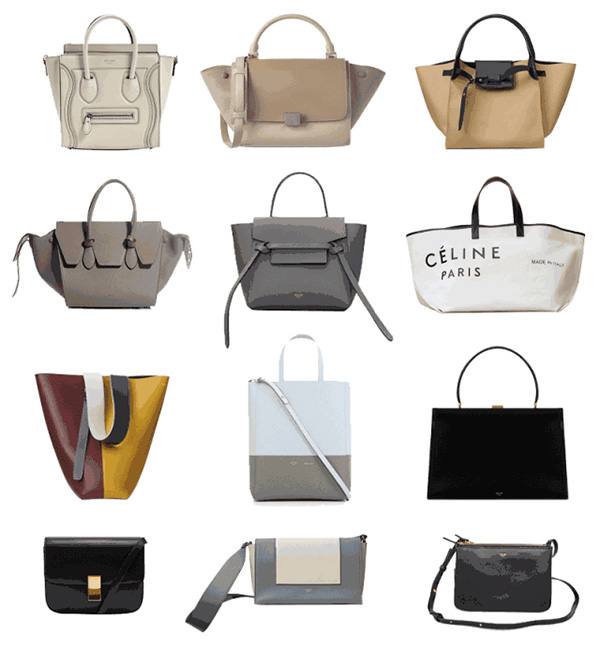 Hedi, the new creative director, can be said to keep everyone's appetites high, from emptying Celine's Instagram to the fact that there are only two bags in the public eye! One of the earlier models, Lady Gaga and Angelina Jolie, appeared to be carrying bags from various events -- 16.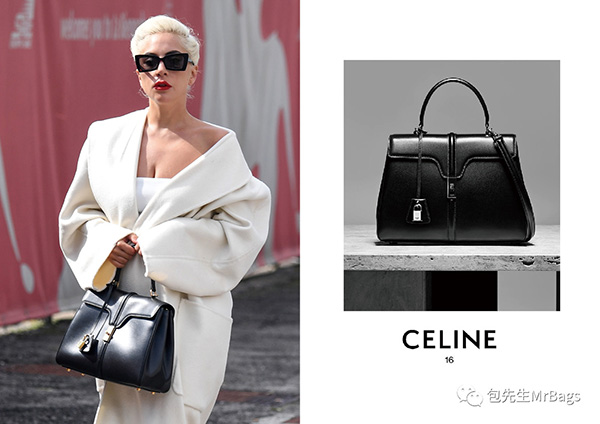 A lot of people don't like this bag, but I have to say, everyone remember the look of this bag, this wave of publicity is very successful!
The design of this bag is very vintage. The body of the glossy finish and the color match of black gold are totally the usual style of Hedi.
Although there are a lot of people who don't like this bag, I have to say that I have been growing grass gradually, more and more love this bag.
Just two days before the show, Celine unveiled a new bag, which has yet to be detailed, but has already provoked a lot of discussion.
The design of this bag is also very vintage, neither of which is like the style of bags that will be introduced by the brands nowadays, and the huge metal pieces and square and upright diamond lattices are not popular elements now.
But I think a lot of people on the Internet say that this single C lock is like Chanel...I really can't see this, this bag is completely from the antique shop to take an old bag, re-engraved, and Chanel Classic Flap is still a long way off!
Either way, both bags aren't enough to tell what kind of new Celine Hedi will bring. Luckily, the answer is coming!
Burberry
Burberry is another brand that is going through major changes!
A lot of bag money that shop sells now, it is the time that this stylist alternates designs come out, relatively basic design, but still have a few prices to be good really, also pretty good-looking!
The Link, which debuted at this fall/winter 2018 show, is a good example of Burberry's most iconic British accent and new street chic. Especially classic plaid, not afraid of the outdated, just like an old bag full of retro feelings.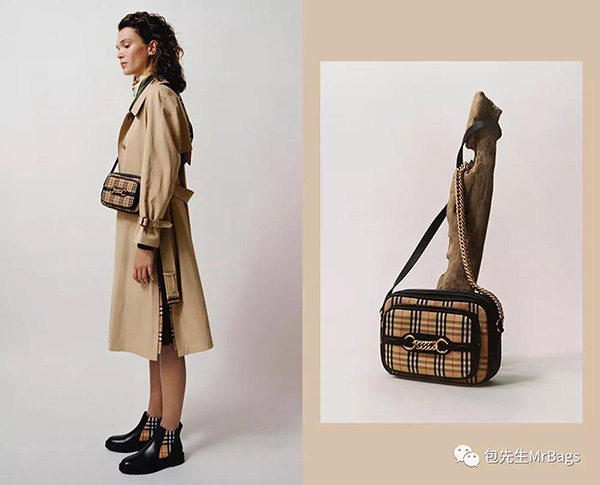 This is only The Link's size is very practical size, black and gold matching very retro, and The more you look, The more durable look! Whether it will come out or not, it's a bag that stands the test of time.
In addition, I have recommended a variety of Burberry check small satchel bags and small Fanny packs for many times. The cost performance is high and really lovely and practical. I will not say more today.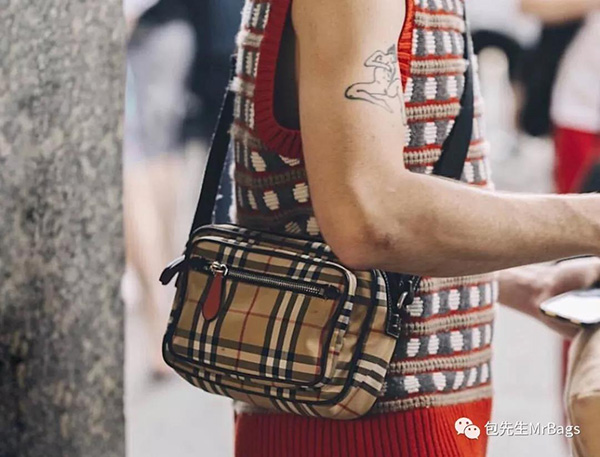 While these bags are good, Burberry has entered a new chapter!
The recent spring/summer 2019 show was the debut of Riccardo Tisci, Burberry's new design director. Before the show, many people were worried that the new Burberry would continue his dark street style at givenchy.
The result was totally unexpected!
This season's bags are mostly clean, with lots of black and white and camel colors, as well as some special new bags.
The show received mixed reviews, with many finding the design to be sleek and colorful, with a nod to classics and a mix of new street wear and haute couture.
But there are also those who feel that Burberry, with its sudden changes, has lost its English heritage, and that Riccardo Tisci, playing the security card, is a bit too small to surprise.
Do you think the new Burberry season has met your expectations?
Gucci
I don't know if you have this feeling, when it comes to autumn and winter, you want to buy a velvet bag!
When it comes to velvet bags, Gucci has to be mentioned, because it has a lot of beautiful velvet bags. This year, I particularly recommend peacock blue.
One is relatively rare, two is the peacock blue of Gucci bag money makes particularly positive!
One is relatively rare, two is the peacock blue of Gucci bag money makes particularly positive!
One is relatively rare, two is the peacock blue of Gucci bag money makes particularly positive!
Want to say malachite blue match the biggest characteristic of the bag is: show white! And it also very show temperament, give a person a kind of faery four overflow feeling.
Fall and winter often wear the clothes of heavy color department, special need a color outstanding package to lighten the collocation of whole body.
This GG Marmont with its cute little deer embroidery is just too good looking! The color of malachite blue is still superior, deserve to go up to do old hardware and the embroider of light color appears delicate degree to rise a class more.
Although the embroidery area is not small, but will not feel overly gorgeous. Want to think of the winter time to wear simple, with such a special bag, walking on the road must be very high!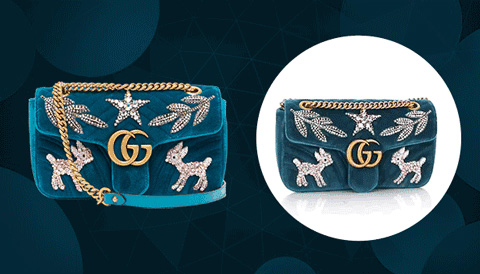 Fendi
Fendi Peekaboo is already a very popular and classic bag style. It is a bag that cannot be bought wrong.
But there are times when you want a bag and expect it to be classic and different from everyone else.
The Peekaboo, which was launched in early fall this year, is something of a revelation. Deep sapphire blue velvet is particularly beautiful, and there is a sense of nobility that you can't easily get close to.
In addition to the special color and material, the leather lining on both sides of the bag is cleverly designed to evoke the intricate details of the dresses of medieval European aristocratic girls.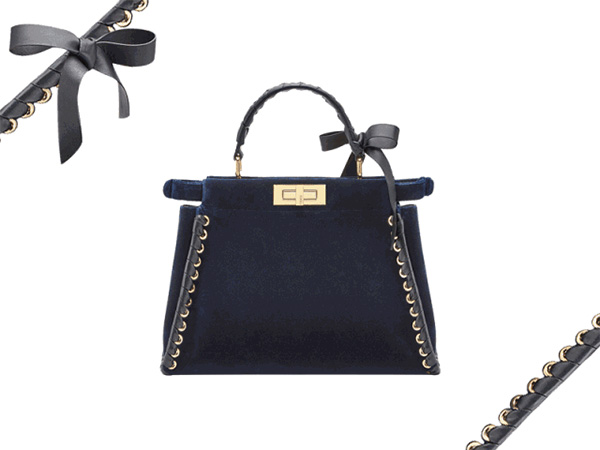 The Top Handle also comes in soft, sheepskin braid that keeps your hands from getting tired even when the package is heavy.
Still tied a big bowknot, but because be black leather, appear small woman while won't be very delicate.
This velvet Peekaboo comes in two sizes, Regular and Mini, with a Mini that's especially cute! And there is enough capacity to go out on a daily basis, feeling more girls will like it.
Louis Vuitton
One of the most striking designs at the Louis Vuitton 2019 resort collection is a collection of bags and accessories featuring a hand-painted cat. It's so cute that it drives cat owners crazy!
In fact, the collection was created by Grace Coddington, the former creative director of American Vogue. She loves cats very much. The inspiration of this collection comes from her two cats: pumpkin and blanket.
There are so many choices this time. Almost all the most popular items are covered. Adding a playful, hand-painted cat-cat pattern to a classic bag is like injecting a whole new energy into the bag.
Before this series came out, I had no idea that such seemingly random hand-painted patterns would match the classic flowers unexpectedly.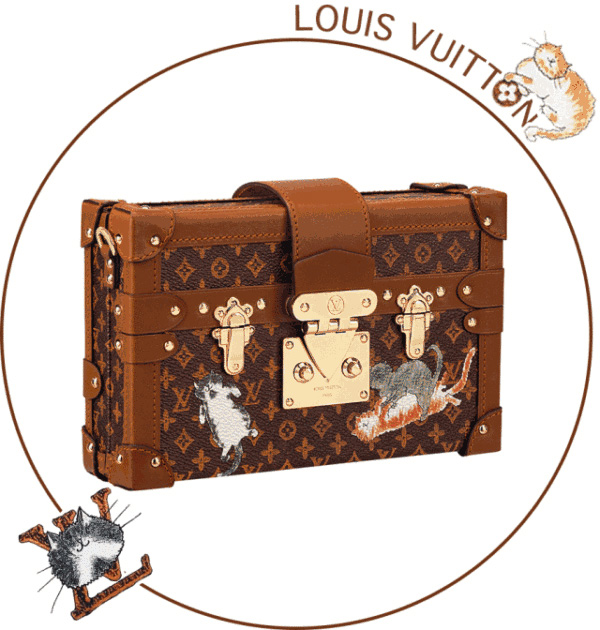 The cat under Grace's paintbrush is not a particularly delicate and noble cat, but a bit lazy, hairy and manic feeling, but the more so, it has a wonderful sense of fashion!
In addition to the classic bag printed with a hand-painted cat, there is even a bag made directly into cat shape.
This one, for example, brings the situation of cat catching mice to life.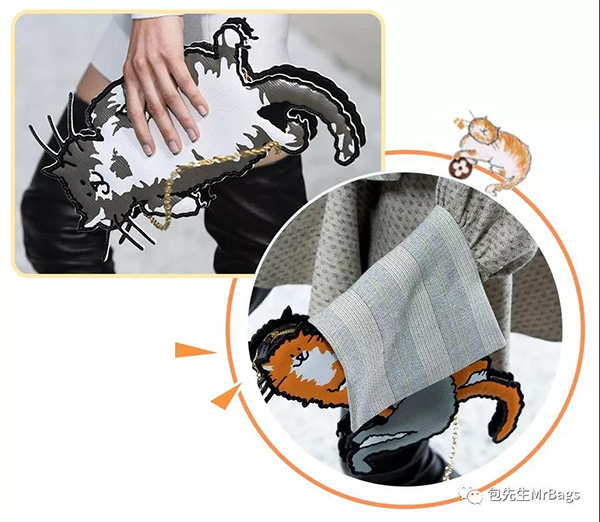 I know a lot of girls can't stand it, ha ha , the bag of this series is not available now, but it will be available in about a month! Don't worry!
dunhill
When it comes to bags, dunhill may be a surprise to many. After all, it's a men's wear brand. But I recently found a dunhill bag that works great!
This is the Concours bag! The bag is inspired by the seat of a vintage car, so there will be these shaggy sections, made with premium goatskin materials, so it feels particularly good.
When using, really can not help keep kneading!
The bulging shape is special and cute, and it can also protect what's inside.
Although it is a man's handbag, it is not too masculine design, the latest season also launched a small, girls can also use, super cute!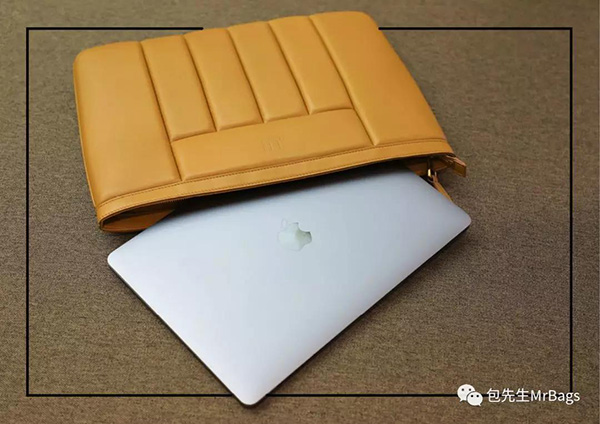 Now only the large size of the sale, boys can be bought with, or more personality of the girls!
The capacity of big bag is really quite big, the 13 inch Macbook Air can also be put in, feeling travel time also needs a so convenient handbag especially!
The inside of the bag also has a zippered compartment for important items like CARDS, so you don't have to scramble to find something when you go out.
Many people may think dunhill feels more mature, but the new season is a complete reversal of that mindset!
Because dunhill has a new designer, Mark Weston! zHe's super classy! His designs aren't very old-fashioned, but they're also less ostentatious, and each item of clothing looks very textured and young people don't feel old at all.
I've seen quite a few of them, and I'm really not afraid of going out of fashion, but it looks great on me!
Miu Miu Cleo
Miu Miu, always the most girly of Miu Miu, launched a package of both nobleness and girlish sense this autumn and winter, and I fell in love with it when I watched the show! This Miu Cleo!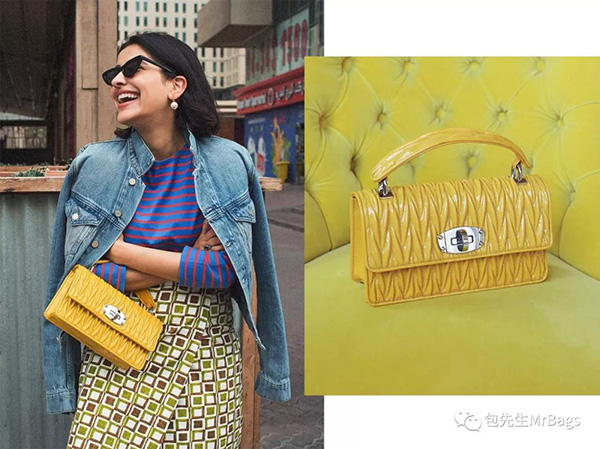 Although launch time is not long, but already had a lot of blogger and star to carry! This Miu Cleo has a lot of color choices, and they're all brilliant!
In addition to the classic Matelasse patent leather material, the colors are quite bright and colorful, as well as special woven and sequined models, which are very attractive to the eyes.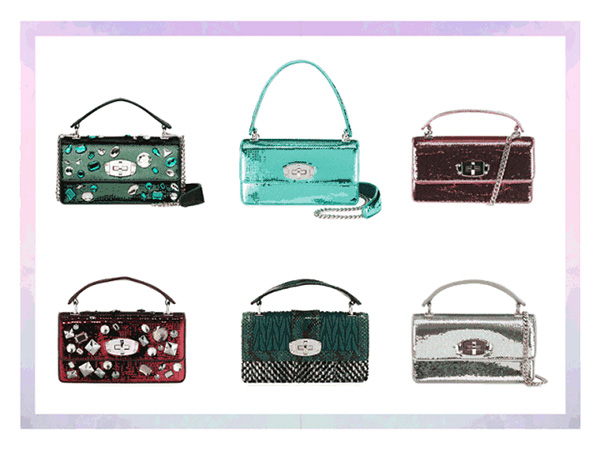 I don't know if you have noticed that the sequins are still popular this year. Miu Cleo introduced two sequins, one of which is a thin flash, so it won't be very flashy.
If feel drab, also can choose the style that still has gem collage on sequin, super lady!
The braid of imitation lambskin fabric is also good-looking! Match colors quite advanced, feeling autumn and winter with special suit.
Miu Cleo's opening and closing method is also convenient, and the locking buckle that can be opened and closed with a twist is very unique, which also accords with the noble tone of this bag.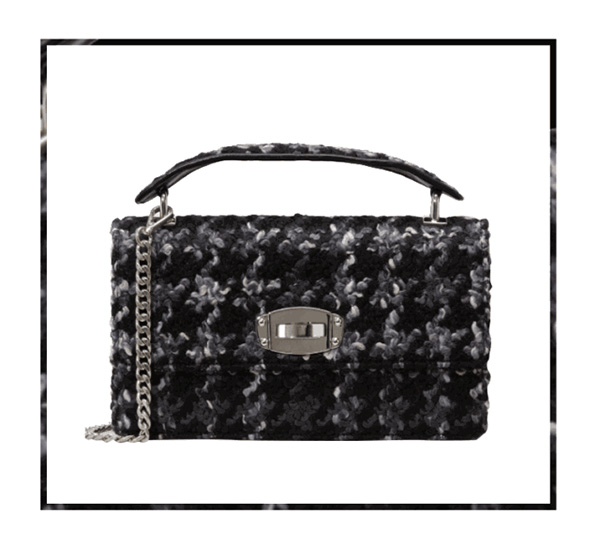 The chain of the bag is also detachable, and when carried by hand, it is like carrying an exquisite makeup box, which instantly turns into a decent dinner bag.
Good like such square and positive package type, match very big lock catch, a bit restore ancient ways also a bit exaggerated scale, use won't old - fashioned!
Micro Valextra Iside
As a classic model of Valextra, Iside has gradually stepped out of the category of "niche", and more and more girls are seen on the street with their backs!
Currently, the smallest Iside Micro is relatively niche, small and exquisite and super cute, especially suitable for the shape and temperament of Asian girls.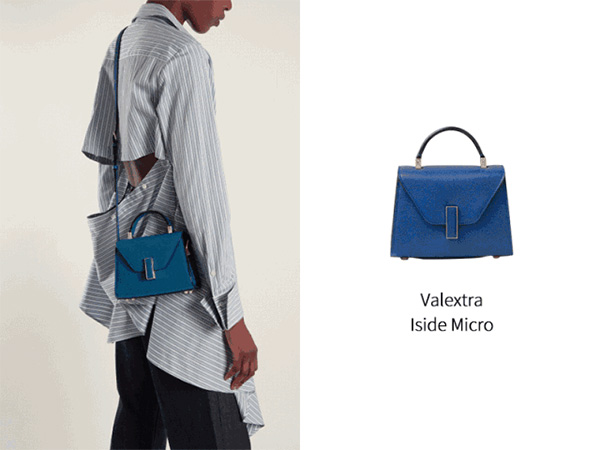 Iside has a kind of elegance, the package line is concise high cold feeling, after shrinking becomes lovely! Always feel autumn winter is dressed more tie-in such compact bag is special good-looking.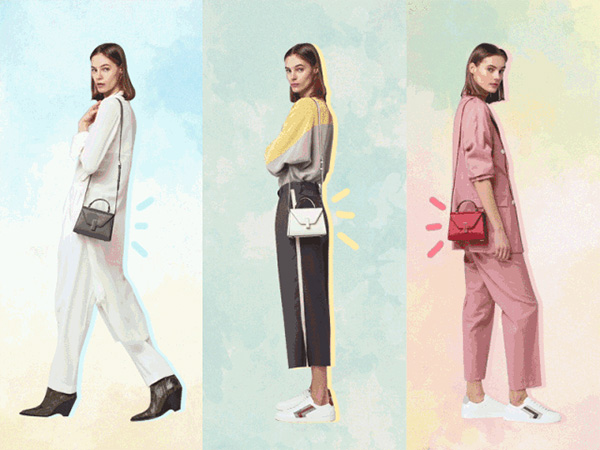 This cherry blossom pink Iside is even more adorable, full of girl's heart, not too melodramatic.
Originally the slanting effect of the Iside Micro was particularly good, but it was also good to hold hands when attending the event!
Strathberry X Moomin
A few days ago, I posted a series of pictures of Strathberry X Moomin's cooperation series on weibo. Today I'd like to take a closer look at why this series is so magical!
Probably everyone is not unfamiliar, this group of lovely elf is also many people's childhood memories!
This collaboration between Strathberry and Finnish artist Tove Jansson has inspired Moomin and his friends to come out of the mming valley and show up in Strathberry's classic bag East/West!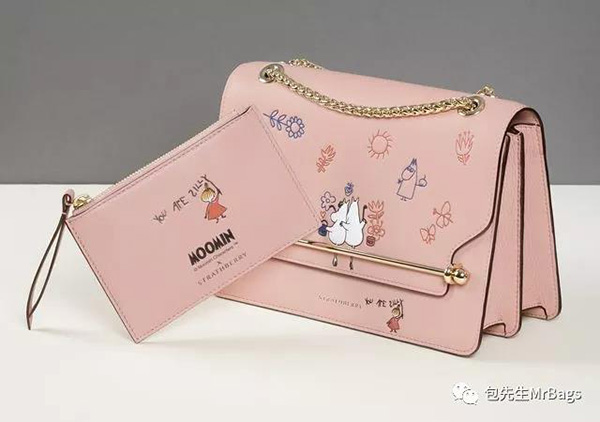 East/West is a typical organ bag. It is very easy to pack things. The practicality is very high.
Although their image is extremely cute, it does not seem childish to appear on the body of the bag, and the "interaction" between the illustration and the hardware on the bag shows a sense of adventure!
Moomin, for example, USES the metal bars on the bag as a bench and a diving board!It's full of ideas.
At present, three colors have been introduced, each with a different story plot illustration, the color is also relatively fresh and soft, especially in line with the tone of illustration.
In addition to East/West, the more sassy Mini Cresent has also appeared in this collaboration.
East/West has a different metal horizontal bar. The metal part of Mini Cresent is smiling, and there is still a chemical reaction between it and the illustration.
For example, the naughty Moomin seems to be hanging over the horizontal bar, which is slightly bent due to his weight. The design is so ingenious!
The front of the bag is long and the straps are also very chic, which makes it easy to get things.
Mini Cresent can also be used as a bag, its shoulder straps are detachable, and because it's a Mini bag, it can be used as a handbag!
What's not to be ignored is these cute little accessories! Whether it is a purse or a small purse, I really want to collect every one, every day with a change!